Best Concussion Management Options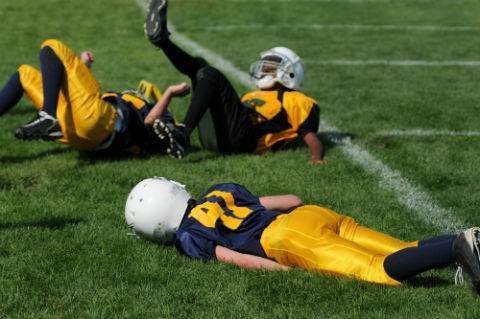 Research of concussion management has now found that exercises and earlier return to school are better [1]. 
Is your chiropractor or physiotherapist recommending you stay in a dark room or avoiding all screens until you are better? That's old and proven to be false.
Every concussion has its own unique spectrum of symptoms so management should be customized. 
Concussions often interfere with work, school, social life, relationships and athletics.
How To Return To Sport After A Concussion
Concussion Management
Luckily most concussions last less than 2 weeks. After 4-6 weeks of concussion symptoms it is then called post concussion syndrome or PCS. 
Research has found that resting beyond two days slows down recovery. This means going back to school for kids and work for adults. [2]
When athletes are kept of out school or work longer, stress and anxiety increase and prolong recovery.[2]
As soon as possible start walking for 5 min, working up to 20 minutes per day.[3]
Sub-Symptom Threshold Training
When walking is tolerated without making symptoms worse you can start fast walking or a stationary bicycle going from 5 to 20 minutes. 
If symptoms worsen while exercising the athlete should stop exercising for a day, then try again the next day. 
Screens
Computers, tablets and phones can aggravate symptoms. Downloading Flux can help you tolerate screens for longer periods of time. Flux decreases the strong blue light and makes everything more orange, yellow and red like the sunset. 
Sunset colours decreases the energy your eye absorbs allowing you to tolerate your screen for longer.
In the morning when you are fresh, determine how long you can tolerate your screen before your symptoms become worse.
Have a rest for the morning and try again in the afternoon before the symptoms come on.
Increase font size to 12 or 14 and use Arial as it is easier to see.
Tell us what you think in the comments below and like us on Facebook. I will answer all questions in the comments section here at this downtown Toronto Chiropractic clinic.
Research
Sport-Related Concussion in Children and Adolescents,

Pediatrics, December 2018, VOLUME 142 / ISSUE 6
Danny George Thomas, MD, MPHa , Jennifer N. Apps, PhDb , Raymond G. Hoffmann, PhDa , Michael McCrea, PhDc , Thomas Hamm, Benefits of Strict Rest After Acute Concussion: A Randomized Controlled Trial, Pediatrics. 2015;135:213-223
Leddy J, et al. PM&R. 2016;8:S91-S100).
Pictures
Photo by Ben Hershey on Unsplash
---
---
Leave your thoughts to Best Concussion Management Options
Related Posts
---