Chiropractic Spinal Manipulation Vs. Nerve Root Injections for Lumbar Disc Herniations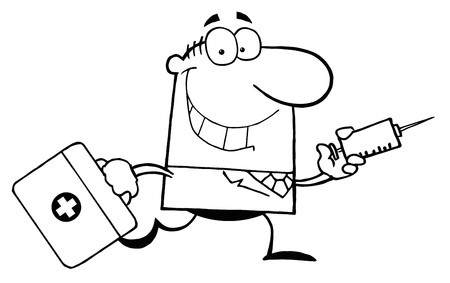 Are you considering chiropractic spinal manipulation for your disc herniation?
Have you been wondering if a nerve injection would help your lumbar disc herniation?
Instead of lower back surgery a viable option could be nerve root injections or chiropractic spinal manipulation for your lumbar disc herniation.
I this article of Bodi Empowerment I go over the pros and cons of chiropractic spinal manipulation vs. nerve injections.
Chiropractic spinal manipulation is when a chiropractor puts you on your side and "cracks your back". Now I don't like to call it that, I prefer the word
"adjustment".
Nerve root injections use a steroid (anti-inflammatory) and lidocaine (the medication dentists use to numb your teeth) combined together in one syringe to do one of two things. First to diagnose your pain. The idea is that if your pain goes away than the nerve root is the problem.  So the lidocaine numbs the pain while the steroid will decrease the inflammation related to the disc injury.
Nerve Root Injections Vs Chiropractic Spinal Manipulation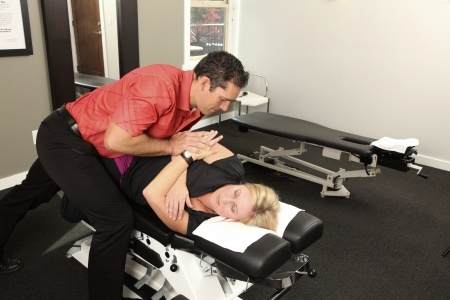 If you have read Guide to Lower Back Surgery you know that I advocate conservative treatment such as chiropractic spinal manipulation, laser, rehabilitation exercises and acupuncture before doing surgery.
There is also another possibility that can help your lumbar disc herniation.  Nerve root injections.
In this particular research they compared chiropractic spinal manipulation to nerve root injections for lumbar disc herniations. [1]
The researchers got 102 people with lumbar disc herniations that were confirmed by MRI. They divided the people in two groups. One group got chiropractic spinal manipulations while the other group got nerve root injections. The finding were very interesting.
Effectiveness of Chiropractic Spinal Manipulation Vs. Injections
The group getting chiropractic manipulation had 76.5% of the people improve while the group getting the nerve root injections improved by 62.7%. After a period of a month the chiropractic spinal manipulation group had a 60% reduction in pain compared to the nerve root injection group, which had a 53% decrease in pain. Keep in mind the nerve root injection group seemed to be worse to start with compared to the spinal manipulation group.
It's important to note that only one person in the chiropractic manipulation group got worse while three people in the nerve root injection group felt worse after the treatment.
The researchers in the study did a type of chiropractic manipulation for the lumbar spine called a pull or a push adjustment which I found aggravates disc herniations. However only one patient get worse with chiropractic their manipulation.
Personally I have found that lumbar roll a type of  chiropractic manipulation to be the most effective for disc herniations. Also I often use acupuncture or other methods for the first few visits  before using manipulation. I have crafted a different methodology to minimize aggravation of the lower back.
The problem with research is they try to find out the one thing that works compared to another. In reality most chiropractors use  many methods to get a patient better as no one method cures everything for everybody.
Chiropractic spinal manipulation for lumbar disc herniations is very safe compared to other types of treatment. Aggravation of the disc herniation has been shown to be a rare occurrence that happens only in the most severely damaged lumbar discs .[2]
Costs
The costs of chiropractic spinal manipulation seems be less than nerve root injections. From a financial point of view chiropractic is better value. However if you are covered for both types of treatments than you probably wouldn't mind either one.  From my point of view though, I would rather not have a chemical inside my back if it can be done more naturally.
It took an average of 11 chiropractic spinal manipulation sessions in one month's time which is more cost effective than nerve root injections. For those of you that have more severe cases of lumbar disc herniation you will likely need more treatments.
For chiropractic it would be more sessions, for the nerve root injections it would likely mean a second injection. Hopefully your financial circumstances are not the drivers of your decision one way or another but the principle and the comfort level you have with the treatment will help decide which treatment is for you along with how effective the treatment is.
Longer-Term Follow-up
Reserach using other injections have shown people treated with betamethasone and bupivacaine elected not to have surgery at a 16 month follow-up  whereas only 33% of those injected with bupivacaine alone avoided surgery.[4,5]
Keep in mind that both treatments were found to be effective at treating lumbar disc herniations. Essentially either treatment will do. Me I would always pick the chiropractic spinal manipulation, but I'm a little biased towards the natural ways.
How about you?
Tell us what you think in the comments below and like us on Facebook. This Toronto Downtown Chiropractor will answer all questions in the comments section.
Peterson CK, Leeman S, Lechmann M, et al., Spinal Manipulation vs. Nerve Root Injection for MRI-Confirmed Lumbar Disc Herniation: Prospective Cohort, Journal of Manipulative & Physiological Therapeutics 2013; 36(4): 218-225.
Oiphant D. Safety of spinal manipulation in the treatment of lumbar disc herniations: a systematic review and risk assessment. J Manipulative Physiol Ther 2004; 27:197-210.
Leininger B, Bronfort G, Evans R, Reiter T. Spinal manipulation or mobilization for radiculopathy: a systematic review. Phys Med Rehabil Clin N Am 2011; 22:105-25.
Riew KD, Yin Y, Gilula L, et al. The effect of nerve-root injections on the need for operative treatment of lumbar radicular pain. A prospective, randomized, controlled, double-blind study. J Bone Joint Surg Am. Nov 2000;82-A(11):1589-93. [Medline].
Riew KD, Park JB, Cho YS, et al. Nerve root blocks in the treatment of lumbar radicular pain. A minimum five-year follow-up. J Bone Joint Surg Am. Aug 2006;88(8):1722 [Medline].
---
---
6 Responses to Chiropractic Spinal Manipulation Vs. Nerve Root Injections for Lumbar Disc Herniations
Related Posts
---