School Backpack Guide: Buyer's Guide and Backpack Safety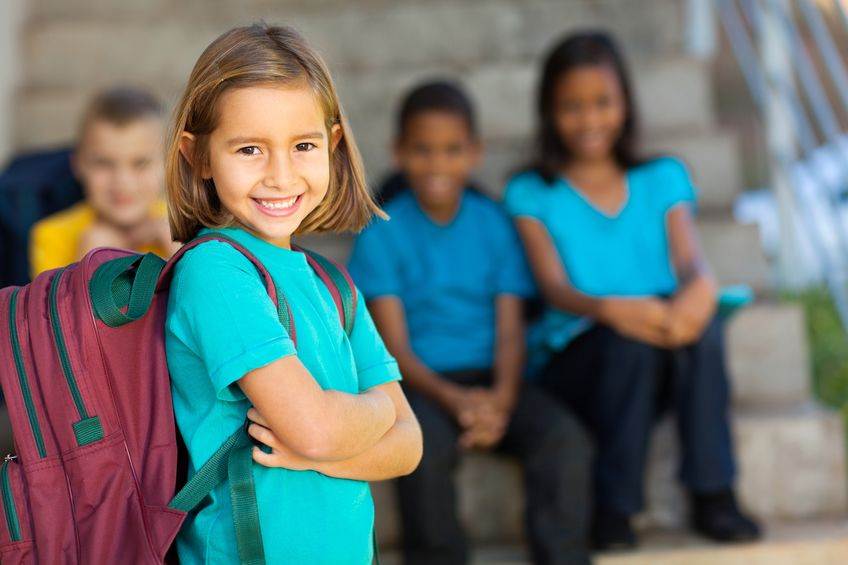 Which backpack is best for your child?
How can you improve your child's backpack safety?
It's "Back to School" time. If you are wondering what the best features to look for in a backpack, and what to do to improve your child's backpack safety, you've come to the right place.
Kids love to wear their backpacks with only one shoulder strap. It's way cooler when all the other straps dangle loosely, but wearing a backpack improperly, causes the muscles, ligaments and the spine to overcompensate for the weight of the backpack.
Over time, your child's backpack can cause pain, nerve problems and may even contribute to scoliosis. So how can you choose your child's, tween/teens backpack?
Guide to Choosing the Right Backpack
If you are trying to choose the right backpack, look for these features. Younger kids, who don't carry books to weigh down their backpacks, don't need all the features I talk about below.
School age kids, tweens and teenagers who need to carry books, or have a lot to carry, need most of these. 
Padded Shoulder Straps: Definitely Needed – Wide, curved, and well-padded straps about 2 inches / 5 cm wide helps distribute the load evenly. Females often fit better into narrower straps. For some kids a women's backpack may fit nicely.
Sternum Straps: Maybe Needed – This strap goes across the chest and clips the shoulder straps together preventing the pack from shifting around. This feature is helpful for heavy loads or if your child has to travel a long distance.
Top Stabilizing Straps: Maybe Needed – Adjusting these strap positions moves the pack closer or further away from your body. This feature is nice to have but is not necessary.
Padded Back with Stiff Support: Definitely Needed – A stiff padded support on the back of the backpack is very helpful when carrying laptops or heavier loads. You can check for this feature by bending the back of the backpack. If it folds easily, it will not have this very useful feature.
Mesh Back Pads: Nice to Have – Mesh covered back pads provide a ventilated area that lets air get between the backpack and the spine, so that will reduce sweating. This feature is not necessary unless your child walks a long way to school but your child will be cooler and drier when they carry this type of backpack.
Laptop Compartment or sleeves: Maybe Needed – Students who are old enough to use a laptop at school will need a laptop sleeve. Even though I am no longer a student, this downtown Toronto chiropractor still uses a backpack to lug a laptop and a change of clothes for the gym.
Numerous Pockets and Organizers: Needed – Pockets for organizing pens, pencils, and knick-knacks are helpful for kids, teens, and adult  commuters alike.
Water Bottle Holder:  Very Helpful
Reflective Stripe/Patch:  Very Helpful

Preschoolers and kindergartners
Your preschooler and kindergartner needs only a small backpack to carry their lunch, their favourite stuffed toy and other little knick-knacks. Most parents and caregivers end up carrying their kid's packs to and from daycare or school. At this age, the features of the backpacks are not as important.
Try the backpack to make sure it fits and is comfortable.
How Do You Adjust The Fit Of Your Child's Backpack?
Ask your child to put his/her arms through the straps
The padded portion of the shoulder straps should follow your child's shoulders and have no gaps. If there are gaps, try going to a smaller backpack, or try a woman's backpack.
The bottom of the backpack should not extend below the hipbone
Slide your hand between the backpack and your child's back. There should be a small gap.
Adjust the shoulder strap until most of the weight is on your child's hips with a little bit of the weight on the shoulders. Having half the weight on the shoulders will tire out the upper back and shoulders quickly.
Position the hip-belt on the hipbones, not above them. Clip the hip-belt buckle and tighten the hip buckle till it is snug
If there is a sternum strap, adjust the height of the sternum strap for comfort. Keep this strap loose. It is simply for keeping the shoulder strap in place
Putting the Backpack On
For young children put the backpack on a chair. Put the backpack on one shoulder at a time and adjust the straps for your child. Remember to put both straps on. For older kids, put the backpack on a table. Put the backpack on one shoulder at a time and adjust the shoulder straps.
Pack It Properly
Pack only what is necessary for that day. The total weight of the backpack should be no more than 15% of the weight of the child. Place the heaviest objects close to the body and light objects away from the back.
Weigh the bag on your bathroom scale. Next, weigh your child without the backpack. Figure out if the backpack exceeds the 15% limit and keep removing things from the pack until you reach the 15% limit. Try using a rolling backpack if you cannot meet this requirement.
Is your child complaining about lower back pain, upper back pain, neck pain or shoulder pains? Get your child checked by a competent chiropractor or physiotherapist.
So what do I recommend? In Canada, I recommend the MEC Kinder Book Bag for little ones and the MEC Book Bag for those that need a laptop sleeve. For Canadians and Americans who want a higher end bag, I recommend the North Face Recon . Please note I am not affiliated in any way with these companies. I am making honest recommendations based on my research. If you find alternative backpacks to the ones I recommended please let me know in the comments for the benefit other readers.
Update: There are some review about the North Face Recon that indicates that the bag is wearing out quickly but there aren't many reviews so far.
Tell us what you think in the comments below and like us on Facebook. This Toronto Downtown Chiropractor will answer all questions in the comments section.
---
---
Leave your thoughts to School Backpack Guide: Buyer's Guide and Backpack Safety
Related Posts
---