Snapping Hip Syndrome: 7 Exercises For Your Clicking Hip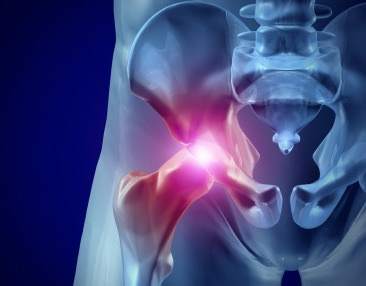 Does raising your leg trigger your snapping hip?
Have you wondered if your snapping hip will cause you problems in the future?
Read on, and I will answer the main reasons why you have a snapping hip and show you 5 exercises to help.
3 Causes of Snapping Hip
#1 Iliotibial band
A tiny muscle that starts in  the pelvis turns into a band running down the side of thigh called the iliotibial band (ITB) which is the main problem. The ITB gets too tight with excessive movement of the hips. With enough tightness the ITB starts to snap over the hip instead of smoothly gliding over it.
This is the cause of vast majority of people's snapping hips.   Most of you with iliotibial band tightness causing snapping hip will have tightness or pain over the hip bone on side of the the upper thigh. The hip is not at the waist when we talk about anatomy.
If you are a runner, dancer, football player (soccer), American football player or involved with a lot of running you likely have a tight iliotibial band.  With overuse the muscle gets irritated, develops scar tissue and the scar tissue and muscle gets larger than it should.You could be prone to a tight iliotibial band if your hip bone is actually larger than it should be, or the angle of your hip is wrong, or if you had previous knee surgery for an unstable knee.[1]
Another cause of a tight and scarred  ITB is flat feet. For this problem simply wearing orthotics will help.
#2 Psoas Muscle & Iliacus Muscle
The Psoas and Iliacus muscles  allows your hip to bend at the waist ie hip flexion.  The two muscles can get irritated from overuse as it moves over the pelvic bone. When irritated and scarred enough the muscles will snap deep inside and feel like it's in your groin area.
#3 Hip Joint Cartilage Tear
An accident or trauma to your  hip is the main cause of tearing of the cartilage that covers the hip socket. With the tearing of the cartilage, this causes a flap or little piece of floating cartilage in the hip. When you move your hip the flap or the little piece of cartilage acts like a wedge and causes your hip to lock-up.
You might feel pain in your groin, side of the hip or in the buttock area.  
Exercises For Your Snapping Hip[1-4]
#1 Stretch Your Iliotibial Band (3 different stretches)
Standing ITB stretch
While standing cross the band leg behind the other leg.
Lean side ways away from the bad leg as far as you can go.
Foam Roll the ITB 
Go on you side roll the foam roll from your hip all the way down to your knee (stay above your knee joint).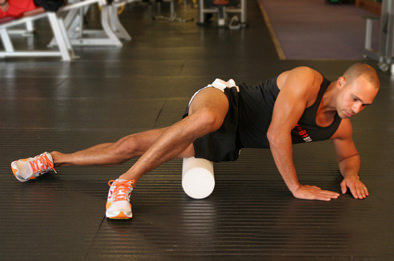 Seated figure 4 stretch
Sit down and cross the injured leg over the other leg.
Lean forward and you  will feel it in the back and sides of the hip.
#2 Stretch Your Hip Flexors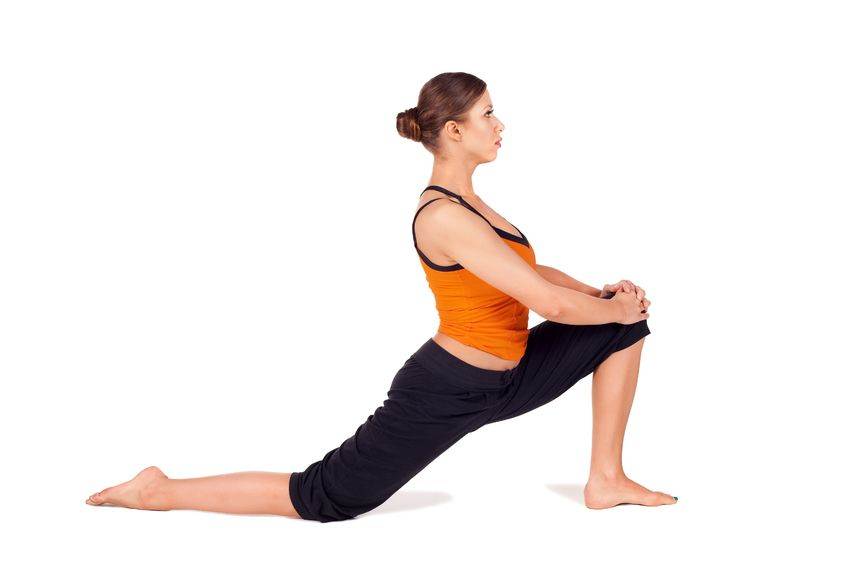 #3 Stretch the Piriformis
Cross your bad side leg over the other knee.
Get a tennis ball, basketball or a medicine ball and sit on it with your buttock.
To treat the pififormis go lean at about a 45-degree angle.
Stop at each tender point and hold until each one is ironed out or feel less tender.
#4 Stretch the Gluteus Maximus
Do the same as stretch #3 the piriformis stretch except you don't cross you leg.
#5 Stretch Gluteus medius and TFL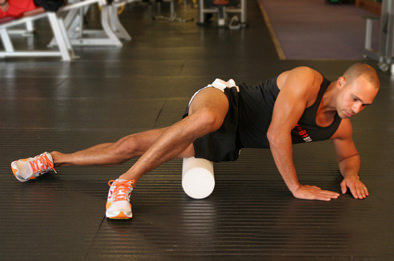 Lie on on your side- For your Gluteus medius stay in the hip area, For your ITB which you already did go lower down to your knee. (stay above your knee).
Put a tennis ball, medicine ball or foam roll underneath your waist bone. Start at belt level.
Stop at each tender point and hold until each one is ironed out or feels less tender.
#6 Stretch Your Adductors
Bring out your bad leg.
Bend your other leg.
Put the foam roll just above the knee and put your weight on.
Stop at each tender point and hold until each one is ironed out or feels less tender.
#7  Strengthen Your Gluteus Medius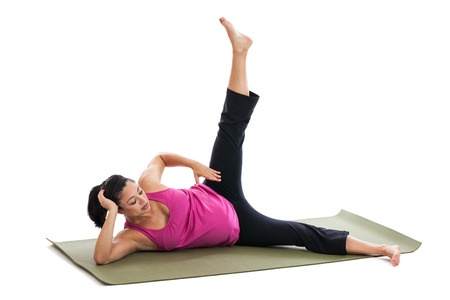 Part I
Raise your leg up slightly behind your bottom leg
Slowly lower your leg down with a count of seven.
Do it 3 sets of 10
Part II
Raise your leg up slightly in front your bottom leg
Slowly lower your leg down with a count of seven.
Do it 3 sets of 10
Will Snapping Hip Syndrome cause you problems in the future? If left for decades the abnormally tight muscles will cause changes in the movements of the hip eventuallly leading to earlier osteoarthritis. It's time to prevent pain and stiffness now! Why don't you do the exercises until the snapping goes away.
Tell us what you think in the comments below and like us on Facebook. This Toronto Downtown Chiropractor will answer all questions in the comments section.
References
 1.  Byrd JW. Snapping Hip. Oper Tech Sports Med. 2005: 13:46-54 2.  Jacobson T, Allen WC. Surgical correction of the snapping iliopsoas tendon. Am J Sports Med 1990; 18 (5): 470-4 3.  Gose JC, Schweizer P. Iliotibial Band Tightness. J Orthop Sports Phys Ther. 10(10):399-40 4.  Andres BM, Murrell GA. Treatment of Tendinopathy. What Works, What Does Not, and What is on the Horizon. Clin Orthop Relat Res. (2008) 466:1539-1554
 2. Jacobson T, Allen WC. Surgical correction of the snapping iliopsoas tendon. Am J Sports Med 1990; 18 (5): 470-4
3. Gose JC, Schweizer P. Iliotibial Band Tightness. J Orthop Sports Phys Ther. 10(10):399-407
4.Andres BM, Murrell GA. Treatment of Tendinopathy. What Works, What Does Not, and What is on the Horizon. Clin Orthop Relat Res. (2008) 466:1539-1554
---
---
22 Responses to Snapping Hip Syndrome: 7 Exercises For Your Clicking Hip
Related Posts
---