Snow Shovelling The Right Way To Prevent Low Back Pain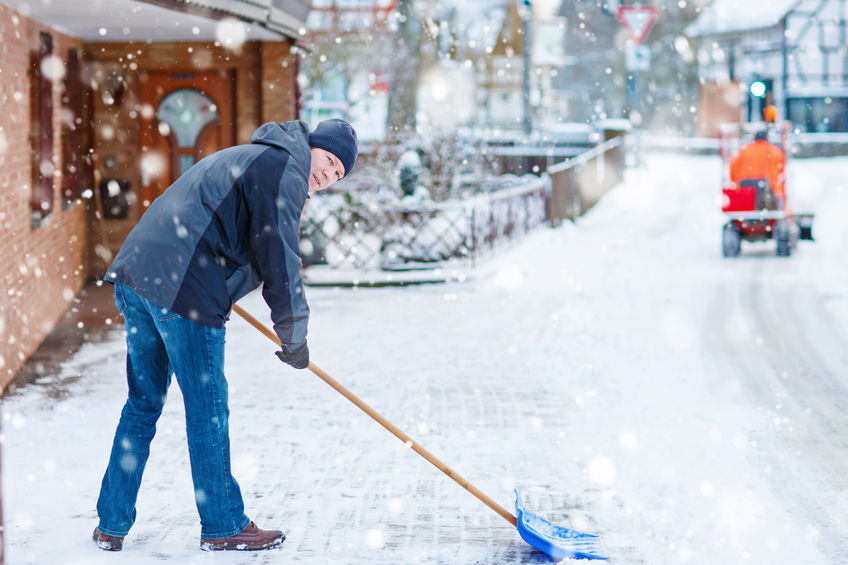 Snow shovelling can be the scourge of low back pain suffers.  Typically most of you will have no pain or the just a twinge while shovelling. You think that you made it through and go to bed that night without a problem.
Next day you wake up and just as you go to stand up you feel this excruciating pain. What happened? Was it the snow shovelling?
You might have strained a muscle, maybe sprained a back ligament but it's actually worse than you thought. You put your disc with the repeated bending and twisting of your spine.
Now you are having a hard time just straightening up your spine. You are bent over forward and a little bit to the right.  If you want to prevent this type of lower back pain while snow shovelling, read on.
Moving Snow the Right Way
Bend your knees:
Remember to bend your knees while moving snow as this prevents you from bending your lower back as much and rounding it out. Most people normally have a curve in their lower back while standing which is protective of your disc. Bending forward while like washing your face at the sink, shaving or putting make-up will cause you to lose the curve in your lower back.
Push That Snow Out Of The Way
Bending your back already does enough damage. After that, most people take a heavy shovel of snow then lift it up and throw. It's better to push the snow towards the snow banks first.
Side Ways To Be Safer
After you've pushed the snow closer to the bank I like to come in from the side. I bend my knees, keep my back curved then use a side sweeping motion and use my momentum. I shovel two to three times faster this way with less pressure on my lower back.
Hope that helps you with preventing low back pain while shovelling snow.
Tell us what you think in the comments below and like us on Facebook. This Toronto Downtown Chiropractor will answer all questions in the comments section
---
---
Leave your thoughts to Snow Shovelling The Right Way To Prevent Low Back Pain
Related Posts
---