TMJ Treatments: Remedies For Your Aching Jaw | Temporomandibular Joint Pain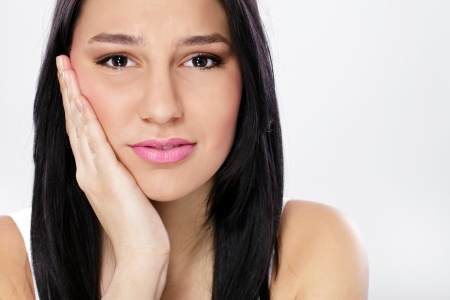 Have you been wondering what a good treatment for your TMJ or jaw problem could be?
Do you have trouble biting into an apple without your jaw clicking or giving you pain?
Then you might have TMJ or Temporomandibular Joint Pain.
Typically most of you with TMJ pain that I see  also have  headaches in their temple area and neck stiffness along with a few visits to their dentist. The dentist usually says that there is nothing wrong with your teeth. What most of you do have is grinding or clenching of your teeth at night.
You can't tell you grind your teeth yourself unless your spouse is a light sleeper and he/she can hear you grinding at night. Typically though while grinding is noisy clenching is quiet. You can be clenching for decades before you get any pain. Until your jaw gets to its "clicking point"
A few of you will have TMJ pain from arthritis either from the effects of a motor vehicle accident long ago or from arthritis that is affecting the other parts of the body. For most of you though it typically lies with clenching or grinding.
Treat Your TMJ
Studies have shown that  treating TMJ by working on the muscles that allow you to chew is helpful.[1] There are four muscles that help you chew. They are the:
Lateral Pterygoid Muscle
Medial Ptyergoid Muscle
Masseteur Muscle
Temporalis Muscle
These aren't muscles that you can work out in the gym to  get them better.  With TMJ  pain your muscles are too strong and tight so you want them to relax and be weak.
TMJ muscles get a work out during the day and at night. Some of you are working out your TMJ muscles all the time.
You use your TMJ muscles when you chew food, then later on without knowing it, you clench your muscles because of that deadline or you're worried about work, money or a bad relationship. In other words stress!
Then at night you keep clenching your jaw or even grind your teeth down working the muscles so much that they become super strong. Soon your jaw is so muscular it changes the shape of your face. That's right it's especially noticeable when a women has a square jaw. (It's not the only reason but in downtown Toronto that's the most common reason)
To treat your TMJ you can use acupuncture points which are the same as acupressure points. Simply press on each acupressure point below for 30 seconds to a minute.

#1 TW 21 Triple Warmer 21
Just in front of the top of the ear.
There is a slight depression here. The point is above the ear canal.
Push until you feel a deep ache or electrical feeling for 30 seconds to one minute.
#2 SI 19 Small Intestine 19
With mouth slightly open look for the depression just in front of the ear canal. (Just in front of tragus for those that are experts in anatomy)
Push until you feel a deep ache or electrical feeling for 30 seconds to one minute.
#3GB 2 Gall Bladder 2
Just in front of the bottom of the ear .
Open and close your mouth you should feel a depression when you open your mouth.
Push until you feel a deep ache or electrical feeling for 30 seconds to one minute.
#4 ST6 Stomach 6
Slide your finger down the back of your jaw bone until you get to the corner.
Place your finger on the muscle just in front of the corner of the jaw bone.
Push until you feel a deep ache or electrical feeling for 30 seconds to one minute.
If you are still having TMJ trouble it's time to get professional help. You should find a chiropractor that works on the TMJ  on a regular basis.
Tell us what you think in the comments below and like us on Facebook. This Toronto Downtown Chiropractor will answer all questions in the comments section.
 Reference
1.  Kalamir A, Bonello R, Graham P et al. Intraoral myofascial therapy for chronic myogenous temporomandibular disorder:  A randomized controlled trial Journal of Manipulative & Physiological Therapeutics 2012; 35: 26-37.
---
---
4 Responses to TMJ Treatments: Remedies For Your Aching Jaw | Temporomandibular Joint Pain
Related Posts
---